Medical & Health
iBen Robot intelligent medical solution aims to open intelligent
services for medical industry with the support of artificial
intelligence; to improve the efficiency of patients' medical
treatment, reduce the work pressure for medical staff, and provide
digital solutions for medical industry based on different scenarios.
SOLUTION ARCHITECTURE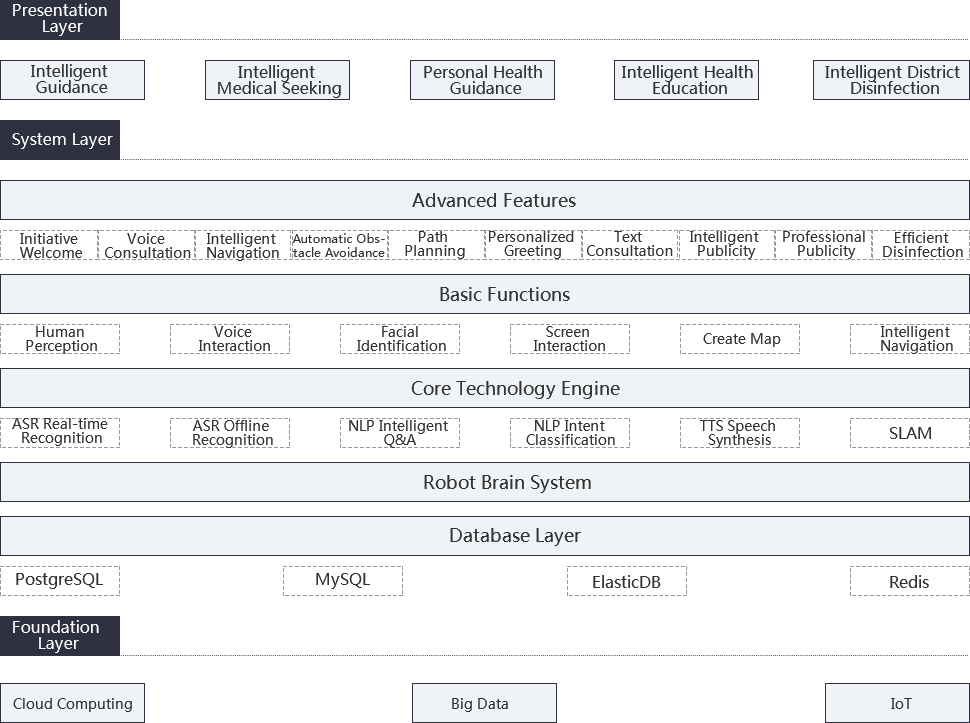 Architecture Description
The intelligent medical care is based on three-tier
architecture, covering a complete eco-chain of
infrastructure services, system services and application
services. The platform makes full use of cloud
computing, big data, mobile internet and other
technologies to establish intelligent and professional
digital medical solution. SCENE FUNCTIONS
Intelligent Guidance for Accurate Medical Treatment

Accurate medical departments recommendation according to the description of patients, reduce the occurrence of "wrong register" and increase the efficiency of medical treatment.

Mobile Publicity with Intelligent Q&A

Answer all kinds of medical related questions, broadcast and focus on diseases in special period and spread health knowledge to every patient based on a strong and authoritative medical knowledge base.

Epidemic Prevention with Dual Disinfection

Dynamic and accurate temperature measurement, recording the body temperature of medical staff and patients; Ultraviolet and ultra-dry atomization disinfection, set the disinfection mode and time autonomously; and navigate without manual intervention.
USER BENEFITS
Improve Hospital Professionalism

iBen Robot is diligent without personal emotions when guiding, it can provide professional services for patients at anytime based on authoritative knowledge base, and improve the professionalism of hospitals.

Reduce Costs and Increase Efficiency

"Intelligent Guidance + Automatic Disinfection" can greatly reduce the work of guiding nurses and disinfection workers, so that hospitals can arrange human resources more reasonably and increase operation efficiency.

Medical Sharing

Connecting with medical IoT resources to realize cross-regional guidance information sharing, promote hierarchical medical system, and relieve the pressure of hospital treatment.
USE EFFICIENCY
Calculated by one intelligent robot serving in the hospital for 10 days

200h

Accumulated working hours

50times

Cumulative publicity and rounds notice

3persons

Medical manpower saving

Calculated by one disinfection robot serving in the hospital for 10 days
CUSTOMER CASE

Baoji Children Welfare House

Luozhuang People's Hospital

Beijing Shijitan Hospital

Beijing Ganjiakou Health Service Center
Contact Us
For further cooperation, please dial 86-755-21014607 or leave a message, we will contact you as soon as possible!