AI Empowerment
Judicial System Intelligent Brain
iBen Robot legal solution aims to focus on AI support in traditional legal construction, explore the broad adaptability of AI in
legal field, expand legal construction channels, improve legal construction efficiency and quality, and rely on open legal affairs,
case explanation, legal Q&A, online mediation and other services to build an intelligent service platform for legal system.
SOLUTION ARCHITECTURE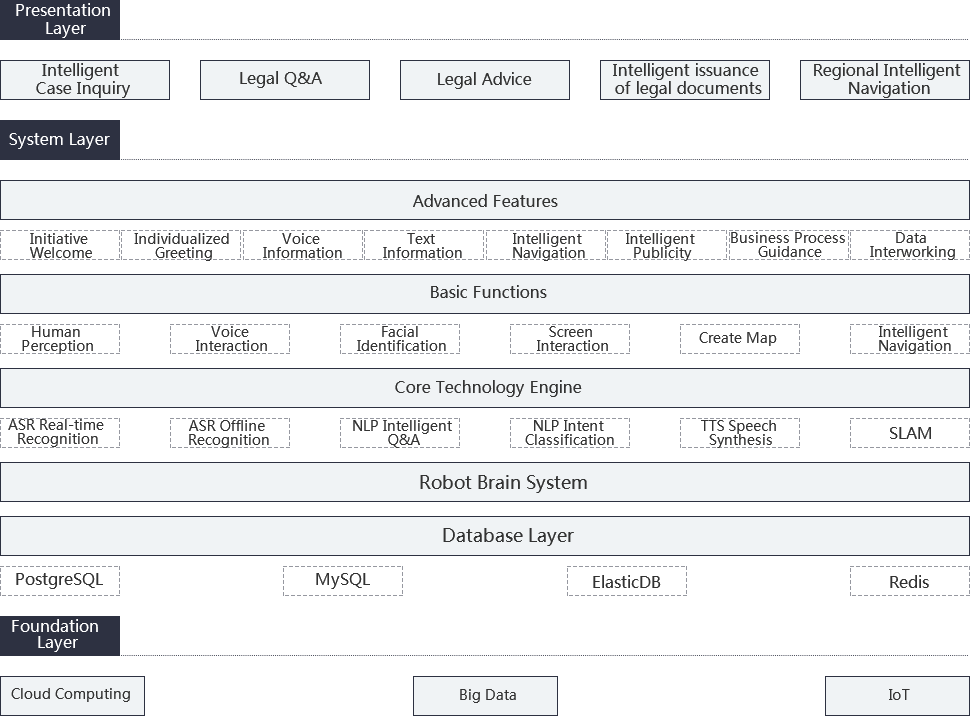 Architecture Description
The AI platform independently developed by iBen Robot, not only meets the basic requirements of legal services, but also provides intelligent management and service methods. It improves work efficiency, and optimizes the user experience at the same time. Providing an integrated online and offline services. SCENE FUNCTIONS
Legal Advice

The AI legal consulting system includes sections such as marriage and family affairs, corporate personnel, intellectual property, criminal crimes, etc., relying on a strong legal knowledge base to accurately match legal questions and reply quickly.

Document Template

The system provides various legal document templates. Users can have a conversation with the robot. And the robot can issue professional legal documents according to the conversation combined with the legal document template.

Legal Business

Open up the legal business system and combine services with legal robots. After consulting legal issues, inquiring, and downloading relevant documents, if services are needed, just fill out an online form on "Legal Business Application".

Case Inquiry

When the public inquiries about a specific legal provision, the system can provide cases based on it, so that the public has a more thorough understanding of the relevant legal provision.

Hall Guidance

The powerful mapping and navigation functions of iBen Robot can lead the people to the designated window and reduce the time cost caused by aimless inquiries.
USER BENEFITS
Benefits the Public

The application of intelligent legal robots can change the public from "Finding lawyers with legal difficulties" to "Finding robots with legal difficulties", not relying solely on lawyer resources, and making legal services more popular and inclusive.

Focus on Hot Issues

Users can analyze current hot issues of public concern based on the interaction records between the public and legal robots, and provide a reference for future government policy formulation and public opinion prediction.

"Intelligent Legal" Ecosystem

Connected with court electronic litigation services externally and connected with administrative management and industry supervision services like people's mediation, lawyer work, notarization work, legal aid internally; achieve legal service business connected at all process, and integrate legal service resources.
CUSTOMER CASE

Baixiang People's Court

Changdu Justice Bureau

Nangong Court

Yinchuan Public Security Bureau, Jinfeng District, Yinchuan City
Contact Us
For further cooperation, please dial 86-755-21014607 or leave a message, we will contact you as soon as possible!